For the south bank, meanwhile, there are 2 comfortable 24m2 (6 x 4) fishing huts. The fishing spots belonging to these fishing huts are 100m wide. The fishing huts are on a floating platform of 84m2 (12 x 7).  
In this fishing cabin there are 2 bedrooms, 1 with a double bed and 1 with a bunk bed. It also has a toilet, fridge, TV, WIFI, air conditioning for heating and cooling, a dining table with 4 chairs, a sofa bed, lighting and sockets. Power is generated by solar panels, so be economical with electricity.
In the toilet there is also a fountain to wash your hands, please note: This is NOT drinking water but water from the Rutbekerveld, so it cannot be used for drinking or cooking. Booking this swim includes a Whaly boat with electric motor and battery (battery charger available at the swim) and life jacket. Also included are 2 unhooking mats, 2 weighslings and 2 landing nets.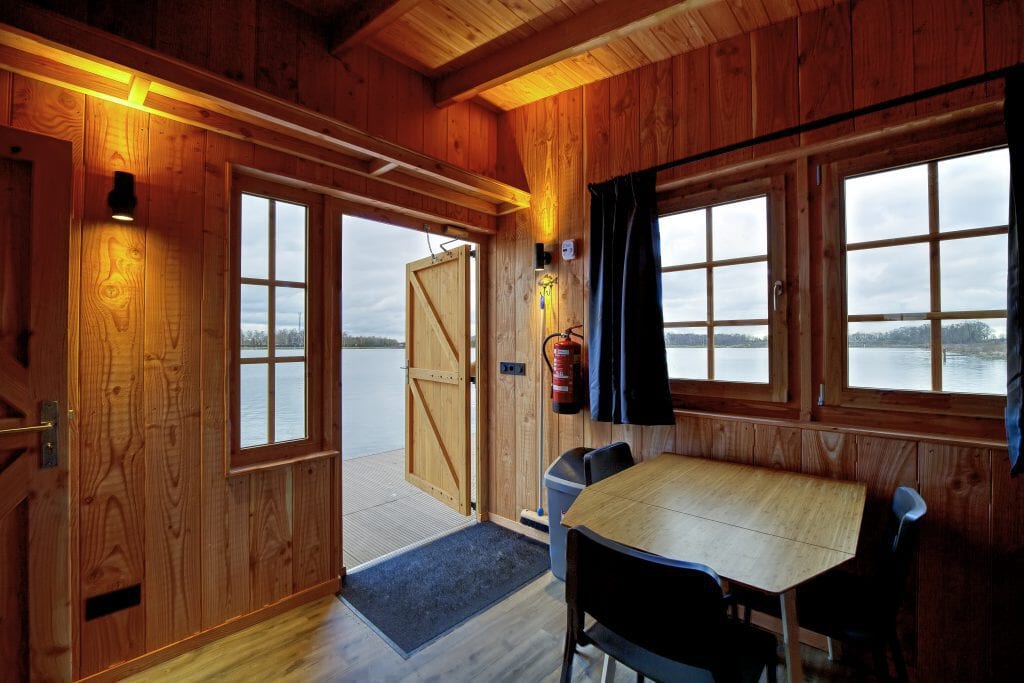 Note: The water around the decking is deep, you cannot stand there. Staying at this swim is at your own risk! We recommend wearing a lifejacket outside the fishing hut at all times! In the boat, a life jacket is always compulsory! This swim cannot be booked for people who cannot swim! It pays to always fish one or more rods under the shore, against the slope. Furthermore, there are interesting spots and outcrops. Dogs are NOT allowed.
Back to facilities overview